Are your travelers looking for somewhere special to say, "I do?" Whether they're on the hunt for the ultimate domestic venue with something a little different or are searching for a far-flung location that wows, these unforgettable spots provide the perfect backdrop for a one-of-a-kind celebration.
On a Ship
For a ceremony overlooking the sparkling waters of the Pacific Ocean, couples can celebrate their big day aboard the Queen Mary, a retired ocean liner perpetually docked in sunny Long Beach, California. Here, art deco decor, swanky onyx fireplaces and dramatic wood paneling set the scene as the newlyweds party with up to 800 of their closest family and friends.
And, when it comes time to spend the night, couples can check out the ship's haunted digs.
In a Castle
As the only official royal residence in the United States, Honolulu's Iolani Palace acts as a majestic setting for love birds looking to tie the knot. Able to accommodate up to 8,000 guests, couples can follow in the footsteps of Hawaii's kings and queens with four onsite venues that act as the perfect place for a noble ceremony or grand reception.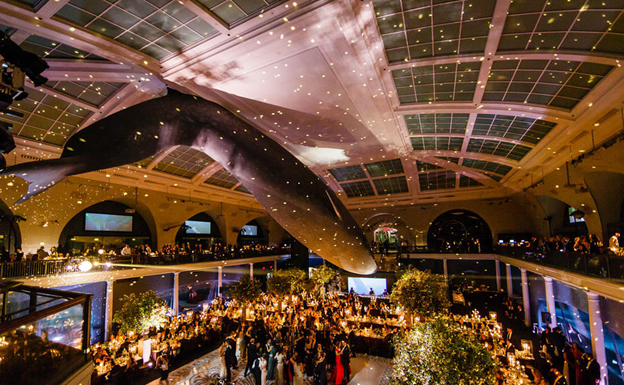 At the Museum
A place where a feeling of magic fills the air when the lights go down and the party begins, New York City's American Museum of Natural History is one of the nation's most unique wedding venues. Here, couples and their guests can dine beneath a 94-foot blue whale, mingle amongst ancient dinosaurs and sip cocktails in the presence of the mysteries of the universe.
In a Treehouse
Hidden within a forest of towering bamboo shoots and lush greenery, the Atlanta Alpaca Treehouse transports visitors to a tropical state of mind without ever leaving the big city. And, with its twinkling fairy lights and carefully chosen decor, this fairytale-like venue is a unique setting for one of life's biggest celebrations.
On a Glacier
A great love deserves a great celebration. And, in Alaska, couples can pledge their devotion to each other in a grand fashion: atop one of the region's magnificent glaciers, many of which were formed millions of years ago.
In Hollywood
For a romantic day as iconic as Hollywood's brightest stars, lovebirds can host their wedding festivities at one of the City of Angels' most famed sights: the Studios at Paramount Pictures. As the oldest working studio in Hollywood, newlyweds and their guests will have an unforgettable time as they dance, toast and mingle in the studio's familiar settings.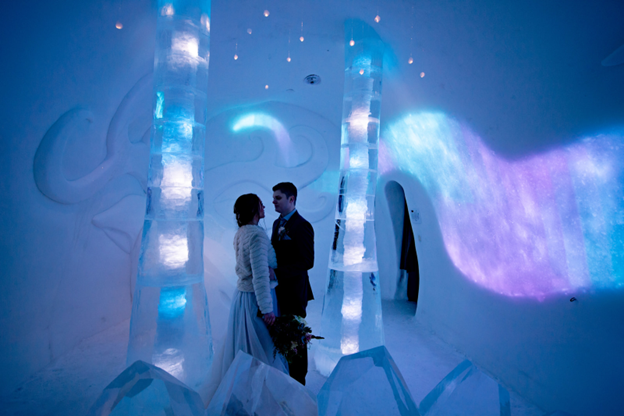 At an Ice Hotel
Each year, as the temperatures begin to drop and the river starts to freeze, a group of passionate artists gather in Jukkasjäarvi, Sweden to craft the latest rendition of Icehotel, a one-of-a-kind hotel made entirely of ice. Couples with their sights set on a winter wedding can take advantage of the chilly complex's Ceremony Hall which features a new, custom design each year and can accommodate up to 40 guests.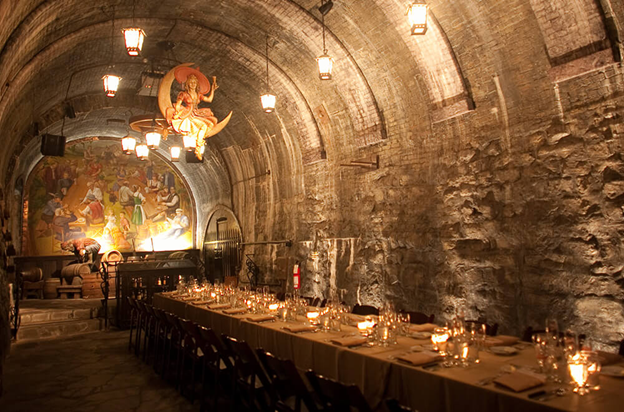 Beneath the Earth
The very same caverns where beer baron Fredrick J. Miller stored the earliest of his iconic brews, Milwaukee's Historic Miller Caves make for a cozy venue with their warm drop lighting and traditional German beer hall-like ambiance. A fitting choice for pint-loving couples, the caves can seat up to 40 guests.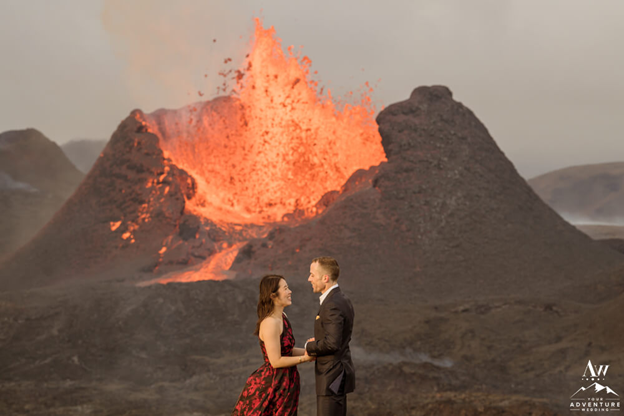 Beside an Active Volcano
For a venue that burns as brightly as their love, destination wedding clients can head to the Land of Fire and Ice where they can tie the knot beside Fagradalsfjall, a multi-million-year-old active volcano. The Icelandic natural wonder last erupted in August 2022 when it caught the eyes of couples around the world as incredible wedding photos flooded the internet.
In a Hot Air Balloon
Floating high among the clouds, couples' hearts will flutter as they soar above the Sonoran Desert from the comfort of a private hot air balloon. An intimate ceremony for two, Phoenix's Hot Air Expeditions has everything lovebirds need to take their relationship to new heights (literally) with custom hot air balloon wedding packages.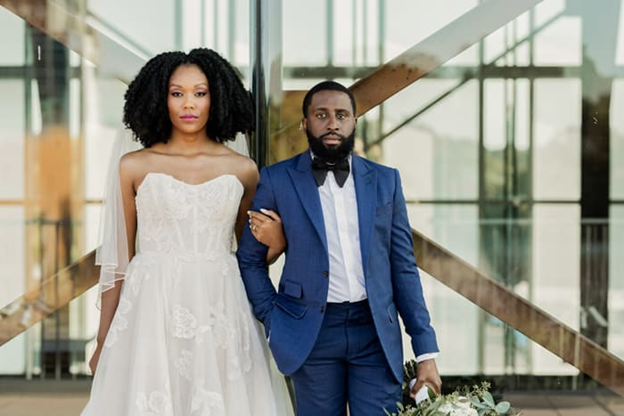 At a Train Station
Couples can book their ticket to everlasting love when they choose Raleigh Union Station as the venue for their big day. Boasting floor-to-ceiling glass windows, cozy, yet minimalistic design choices and panoramic views of the Raleigh skyline, this unique location is the perfect place to say, "I do." And, if they're felling extra spontaneous, newlyweds might consider catching a train to their honeymoon.
At a Theme Park
Weddings can be an emotional rollercoaster. Thrill-seeking couples can embrace the ups and downs that come with their big day when they host their nuptials at Pacific Park, a fully equipped theme park on the historic Santa Monica Pier. And if the unique location isn't convincing enough, lovebirds will have no shortage of epic photo ops thanks to an onsite Ferris wheel, coasters, classic carnival games and the Santa Monica Beach which overlooks the Pacific Ocean.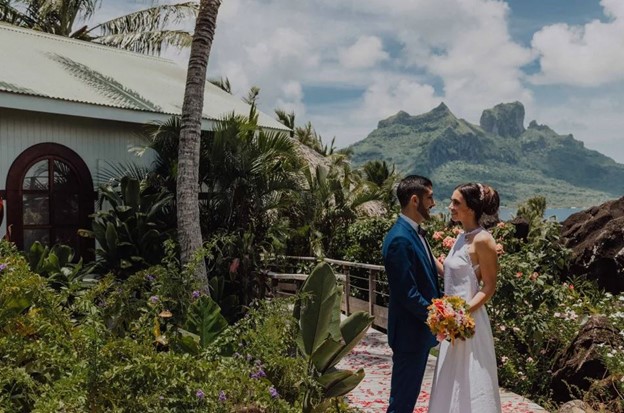 In a Hilltop Chapel
Far, far away in tranquil French Polynesia, wedding bells are ringing at Conrad Bora Bora Nui's Saint Amour Chapel. A cozy little spot that overlooks the bluer-than-blue ocean and swaying palm trees, island-loving partners will find this historic chapel to be the perfect place to get hitched.
Above Sparkling Blue Waters
The typical resort wedding is taken to the next level at Karisma Hotels & Resorts' El Dorado Royale where lovestruck twosomes will appear as if they're walking on water as they host their ceremony at Aqua Terrace, a series of picture-perfect acrylic platforms perched above the sea.
In a Cave
In sunny Mexico, couples can take their love to new depths when they tie the knot at Xcaret Park's Chapel of Our Lady Guadalupe. Built atop an ancient cenote, this one-of-a-kind chapel features a subterranean waterfront altar that sits beneath a 39-foot-tall hand carved sculpture of the Virgin Mary.
Originally Source from The Compass – Jeanna Buege