When it comes to determining the best vacation spots, narrowing down the list seems like an impossible task—we want to travel everywhere!
One of the nation's leading global tour operators, the award-winning , and top U.S. travel agents took a closer look at travel trends and booking demands for 2019. From beach paradise to exciting adventure and cultural exploration, whatever your vacation passion, their list has got it covered.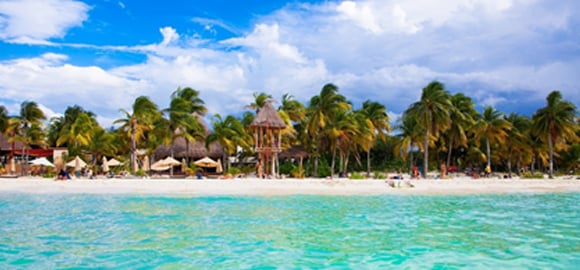 1. Cancun and Riviera Maya, Mexico
It's no surprise that Cancun and Riviera Maya came up as the number one most requested destination among Travel Impressions' customers. From the breathtaking landscapes, soft coral sands, and crystal-clear waters to an incredible journey back to the mystical Mayan civilization, a visit to Cancun will make you feel like you're waking in a dream!
Situated on the northeastern edge of Mexico's Yucatan Peninsula, bordering the turquoise Caribbean Sea, Cancun is known for world-class luxury beach resorts, historic landmarks, and significant monuments—including a number of historical ruins–as well as lovely dining venues and fun-filled excursions.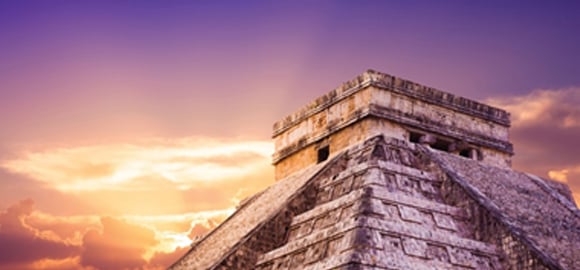 A trip to Riviera Maya (just south of Cancun), will take you back to the fascinating world of the Maya. Think captivating archaeological sites like El Rey (The Temple of the Scorpion) and ancient cities including Chichen Itza, Tulum, and Coba. If you're in the mood for a little adventure, embark on an off-the-beaten path journey in the lush jungle, or snorkel and swim alongside gentle whale sharks.
Did you know:
Cancun's sand won't burn your feet; it's made of crushed coral, meaning it will naturally stay cool even on the hottest days!
The Great Mayan Barrier Reef is among the largest in the world, second only to Australia's famous Great Barrier Reef.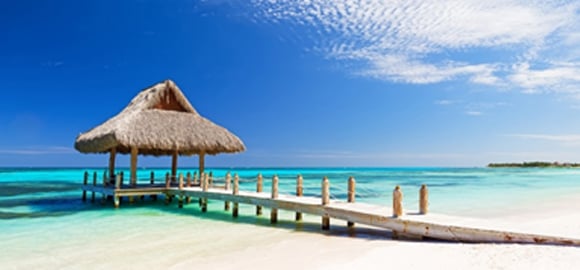 2. Punta Cana, Dominican Republic, the Caribbean
The Caribbean has always been an unrivaled beach vacation favorite with a wide range of attractive destinations to choose from. Vibrant Punta Cana stands out from the rest, and here's why:
Located at the easternmost tip of Dominican Republic, Punta Cana is often referred to as the Coconut Coast for the coconut palms that dot its 40 miles of white-sand beaches. Despite its increasing popularity, Punta Cana's beaches remain unspoiled—incredibly wide and evenly flat with clear, warm water that makes Punta Cana the perfect location for water sports and swimming.
And if that isn't dreamy enough already, Punta Cana also offers plenty of luxurious all-inclusive resorts; places for trendy entertainment and activities; shops; lavish restaurants, bars, and nightclubs; and many magnificent golf courses with world-class facilities. You can tee up by the sea or along lush inland courses designed by some of the world's most acclaimed golf course architects, including Pete B. Dye, Jack Nicklaus, Robert Trent Jones, Sr., Gary Player, Tom Fazio, Nick Price, and Greg Norman.
Did you know:
This destination was home to the late Oscar de la Renta, the world-renowned fashion designer who also designed the Tortuga Bay Boutique Hotel in Punta Cana.
Punta Cana International Airport (PUJ) is the most-connected airport in the Caribbean and Central America, receiving flights from 26 countries and up to two million passengers a year.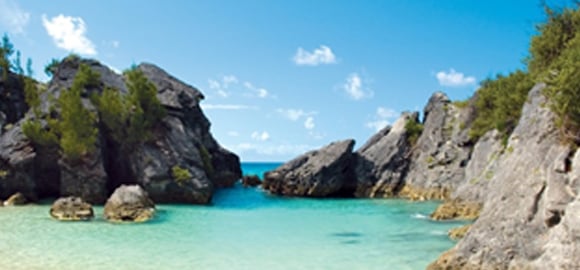 3. Bermuda, Atlantic Ocean
Travel agents love beach vacations as much as you do, and there is almost no place else quite like Bermuda. In fact, its pink-sand beaches and clear turquoise waters are so beautiful that many often mistake this island just off the coast of the Carolinas for the Caribbean!
Famous for its lovely pink sand beaches, you can relax while sipping Bermuda's national drink, the rum-based Swizzle. Or, if you're interested in history, the story of the Moon Gate and the magic behind the Weather Stone will make you fall in love with Bermuda even more. After all, getting to know the story of the city is half the fun!
Adrenaline-seekers can enjoy the thrills of year-round adventure whether horseback riding across the shore or diving beneath the waves. If you're a foodie, its top-notch culinary highlights are a draw in and of itself. And for social butterflies, flutter right on over, because Bermudians are known to be over-the-top friendly. Take a scooter (the most popular way to travel around Bermuda) and get to know the locals. You'll be bound to meet many who will touch your heart with generosity and treat you like their own neighbors.
Did you know:
While many believe Bermuda to be part of the Caribbean, the island actually rests hundreds of miles north of the Bahamas in the Atlantic, a mere 650 miles east of North Carolina.
Its unique location in the Atlantic provides an extraordinarily pleasant climate that rarely sees extremes of either hot or cold.
John Lennon had a home there!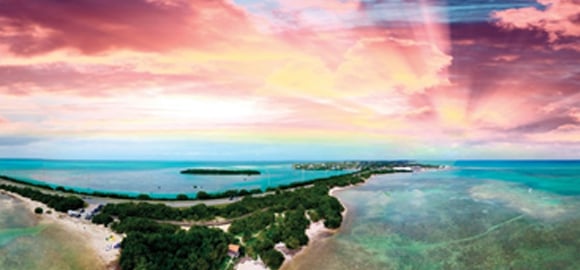 4. Key West, Florida
If you desire a more colorful and vibrant vacation, look no further than dynamic Key West. Named one of Travel + Leisure's "50 Best Places to Visit in the World in 2019," Key West is known as an attractive holiday spot with fun nightlife, beautiful coastline, and year-round sunshine. You can feel positive, lively energy floating all over the town while being blown away by an incredible confluence of history, cultural diversity, natural beauty, architecture, and romantic ambiance.
Key West was once home to celebrities like Ernest Hemingway, Tennessee Williams, and Robert Frost, all of whom discovered solace and inspiration in this island city. Experience Key West's footprints from the past by visiting some of these historic sites: Ernest Hemingway Home and Museum, Harry S. Truman's Little White House, Robert Frost Cottage, and Audubon House & Tropical Gardens.
Besides relaxing by the beaches or challenging yourself with fun water sports, a visit to Duval Street must also be at the top of your list. Duval Street is Key West's center of entertainment and nightlife, where sumptuous restaurants and fun bars are waiting for visitors to explore. If you're a party-goer, this is the right place for you!
Did you know:
During Cuba's unsuccessful war for independence from Spain, many Cubans sought refuge in Key West, bringing with them a thriving cigar-making industry. Cubans set up 200 factories in town, producing 100 million cigars annually.
The term "key" is a corruption of the Spanish word, "Cayo," which means small island.
The climate of the Florida Keys is classified as tropical. The weather is hot and humid from June to October and relatively drier and cooler from November to May. The Keys are the only frost-free place in Florida.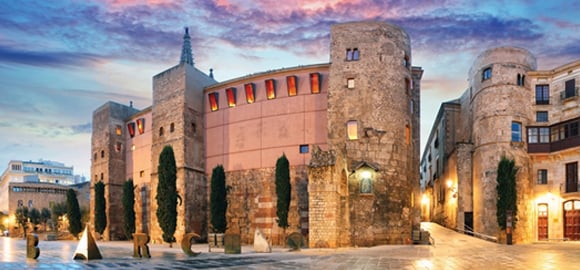 5. Barcelona, Spain
Travel agents with Travel Impressions can't help but include the enchanting seaside destination of Barcelona as one of the best vacation places this year. With its dynamic arts and culture, stunning landscapes, and plenty of splendid architecture, there's always something to do and see whenever you are here.
If it's your first time in Barcelona, hitting the iconic sites like La Rambla, La Sagrada Familia, Picasso Museum, or one of Antoni Gaudi's whimsical buildings is a must. And while a lot of people come to Barcelona for a beach getaway, there are also lesser-known sights and neighborhoods worth visiting. Places like Poble Espanyol featuring unique art and architecture; Parc del Laberint d'Horta, a historical garden known to be the oldest of its kind in the city; or Gracia neighborhood offering the real spirit of Barcelona with its relaxed promenades.
When it comes to a culinary scene, Barcelona is well-known as being one of the world's food capitals. Embedded in the city's heart and soul, its gastronomy offers fantastic dining experiences featuring plenty of great restaurants with a diversity of cuisines to savor. From paella to Ferran Adria-inspired dishes—especially when paired with a glass (or a bottle!) of vintage wine—gourmet lovers will find their food heaven in every corner of the city. No trip to Spain would be complete without a food feast in Barcelona!
Did you know:
Barcelonians are huge fans of soccer. It is home to one of the world's largest and richest football clubs, FC Barcelona. The Camp Nou stadium, home to the FC Barcelona, is the largest football stadium in Europe and the third largest in the world.
Voted one of the best beach cities in the world by the National Geographic many years ago, Barcelona didn't actually have any beaches until the early 90s, when the town council set about the creation of an artificial beach in preparation of the 1992 Olympics.
Originally sourced from The Compass – Travel insights from Travel Impressions