Are you considering learning more about destination weddings? Do you have clients interested in leaving town to tie the knot? Amber Lynn of Enchanted Vacation Travel planned her own destination wedding and is sharing all the details with us here.
During the initial planning stages, most couples try to weigh the pros and cons of having a wedding near their home or in another destination. After spending time researching, for Lynn, it was not only going to be less expensive to have a destination wedding, but also more fun to have it on the beach. Having a wedding coordinator at the property was also a huge selling point.
"Another benefit of a destination wedding is that most large brand name resorts will have an on-site wedding coordinator to work with as part of your wedding package," she explained. "The on-site wedding coordinator takes care of all the details of your wedding. You just have to tell him or her what you want and as long as it's legal and within their capability, they will do their best to meet your request."
Once the decision is made to have a destination wedding, the next step is choosing the destination. Lynn and her wife chose to tie the knot in the Dominican Republic since it was the first international trip they took together while dating. They fell in love with the beaches and weather and knew there were plenty of resorts to choose from.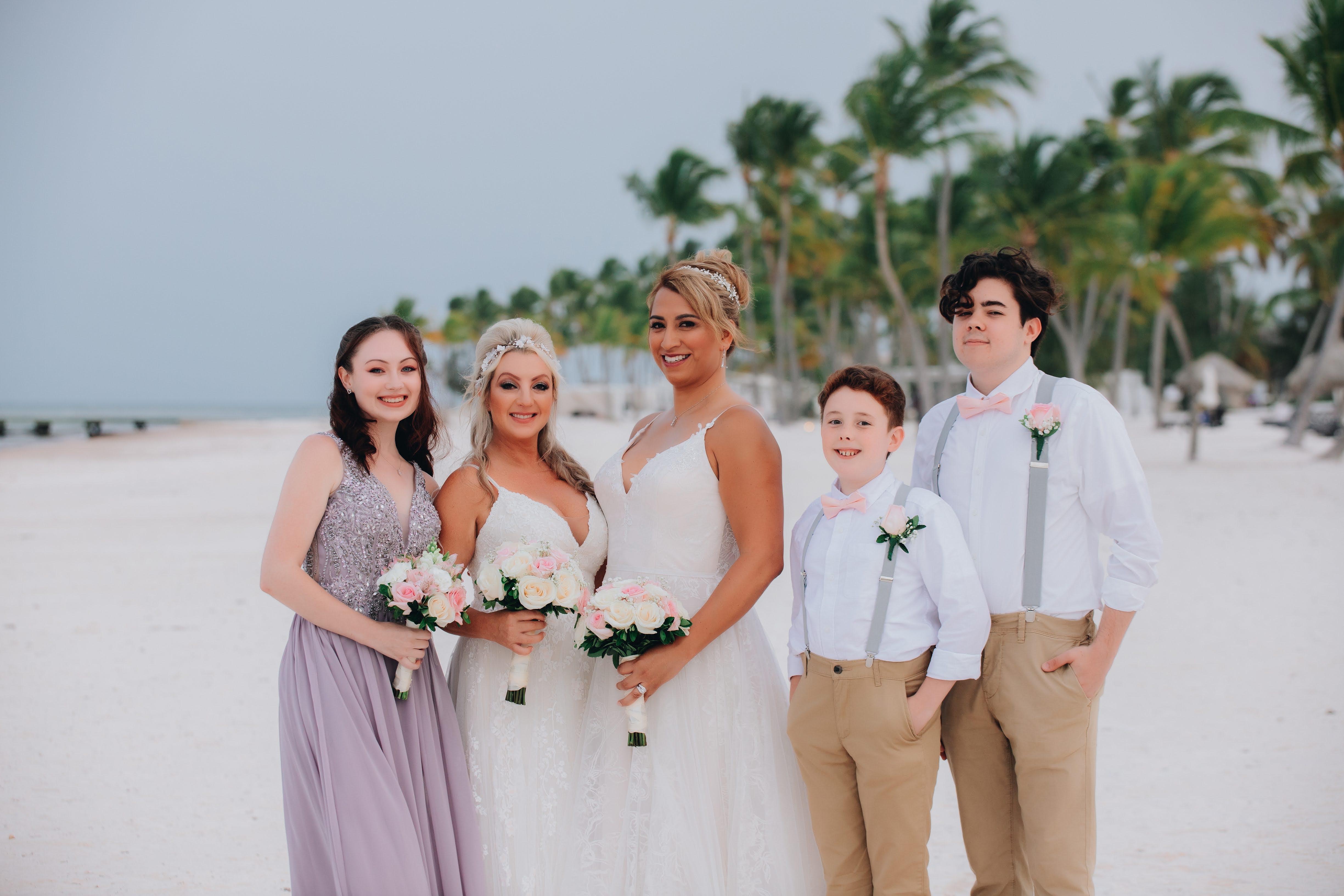 Photo courtesy of Hyatt Zilara Cap Cana Photography
After inspecting several resorts, they landed on Hyatt Zilara Cap Cana. "We loved the white sandy beach, the palm trees, the gazebo on the beach, the resort amenities, close proximity to the airport, the amazing food (the best in Punta Cana), and the resort lay out of an adults only resort (Hyatt Zilara Cap Cana) next to an all-ages resort (Hyatt Ziva Cap Cana)," she said. "Although none of our 20 wedding guests were bringing children, we had children who were going to be involved in our big day. Our children stayed on the Ziva side while my wife and I stayed on the Zilara side."
Since it was a special occasion, they opted to stay treat themselves and stayed in a Club level ocean front swim out room. "We wanted to have the butler that comes with Club Level rooms and we were glad we did because Norberto, our butler, did a wonderful job with our requests throughout our stay," Lynn said.
In addition to the couple creating memories they will cherish for a lifetime, having a destination wedding also gives friends and family a reason to book a vacation and usually ends up being a trip of a lifetime for them as well. Lynn's wedding guests regularly talk about how much they enjoyed the trip to Punta Cana and how they can't wait to go back again.
Photo courtesy of Hyatt Zilara Cap Cana Photography
When Lynn talks to her clients about their own destination weddings, she reminds them to always have a plan in place. "The top tip I provide clients and potential clients is to have a plan, more specifically a written outline of their expectations of a destination wedding," she said. "From their expectations, I can advise them if the expectations are realistic as well as present other factors that the wedding couple may not have considered for their perfect destination wedding."
Destination weddings aren't for everyone, but if it's a possibility, Lynn encourages couples to go for it: "I think it's a great option to be able to celebrate a special day at a beautiful location where the couple will be able to relive that special event over and over from the numerous photos and videos taken at the destination wedding."
Originally Source from The Compass – Codie Liermann