Wine time is the best time, regardless of the region you're visiting. Geographical differences in land, climate and winemaking traditions affect the taste, body and aromas found in every bottle of wine. There are also differences between Old World and New World wines, as Old World wines are from Europe and New World wines come from anywhere else on the map.
Old World wine – Typically these wines are lighter-bodied and lower in alcohol. For centuries, each country crafted a winemaking process unlike others. The Old World's naming process stems from regions like Bordeaux, Champagne, Burgundy and more. France, Italy and Spain are the world's top wine regions and since they're all from the Old World, it makes sense why many winos prefer those wines.
New World wine – These wines are fuller-bodied, higher in alcohol and tend to taste more fruit forward since they feature less acidity when compared to Old World wines. Without any protocol other than emphasizing fruit characteristics, experimenting with wine is how the New World flows. The New World's naming process typically refers to the grape varietal, like chardonnay, cabernet sauvignon, pinot noir and more. Wines in the U.S., New Zealand, Argentina and Chile make up the New World.
Old World Wines with New World Style
If you're dreaming of sipping an Old World wine on your next vacation but can't make it across the pond to Europe, you can get a taste of the Old World close to home. The rolling hills that define Old World vineyards will flash before your eyes while New World wines are poured into your glass.
Feeling French in Napa Valley – Champagne is significant to France, so chasing the next-best sparkling wine is inevitable. Visit the most regal chateau in Napa Valley, the Domaine Carneros, a 138-acre vineyard and regional landmark that recently won the Green Medal Award for sustainability initiatives. Carneros' micro-climate is ideal for growing chardonnay and pinot noir grapes, similar to France. Visitors can go behind-the-scenes and get a taste of "method traditionnelle," which is an intricate technique used to produce rich, complex bubbly. Sip sparkling or still wines from the comfort of a wraparound terrace overlooking rolling hills and formal gardens or in the Louis XV-inspired salon. Either way, you'll feel like French royalty at Versailles.
Sipping Sangiovese in Sonoma County – Sangiovese is Italy's most planted grape and Sonoma County is also crushing it, especially at DaVero Farms & Winery in the Dry Creek Valley. Wine enthusiasts, nature lovers and foodies can find the perfect balance here. Sit upon a farm table and learn from wine educators while enjoying five wines, two estate olive oils and imported balsamic vinegar along with seasonal cheese, fruit and charcuterie pairings. Imbibe in an intimate way with "Discover the Farm," which allows visitors to sit down in a private tasting room after exploring estate vineyards and gardens, meeting farm animals and discussing biodynamic farming practices. An alfresco wine and dining experience matches the Tuscan countryside ambience in Italy.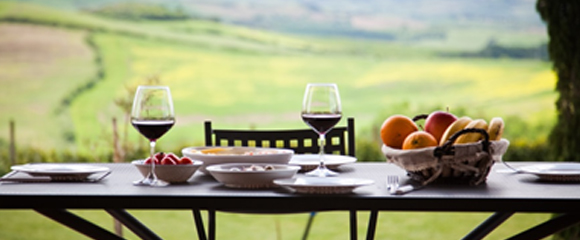 Gruner Veltliner Near a Great Lake – Gruner Veltliner originates from Austria, but Traverse City in Michigan puts the Midwest on the map when it comes to this mineral and zesty tasting white wine. The Leelanau Peninsula Wine Trail is Michigan's first wine trail that started with four connecting wineries and continues to grow. Shady Lane Cellars, where gruner veltliner thrives, is located in the Grand Traverse Bay Loop, which is part of that trail. It has an outdoor patio and tasting pavilion (perfect for weddings), an historic 100-year-old tasting room and grass that's greener than you've ever imagined, unless you've gallivanted around an Austrian wine region like Wien or Steiermark.
The Cabs are Definitely Here in New Jersey – Cabernet Franc is the "parent" grape in cabernet sauvignon and merlot wines and derives from France. In the Western highlands of New Jersey, Beneduce Vineyards focuses on the conversational and casual approach to wine. It's a playful venue that invites visitors to indulge in their distinct dry, food-friendly wines while listening to local musicians alongside the vineyard during fall, spring and summer weekends. The Garden State's climate is most similar to Northern French regions where cabernet franc built its savory and sweet characteristics.
Rieslings to Love New York – Riesling is Germany's sweet specialty, although it can be dry too. Dr. Konstantin Frank Winery is located in New York's Finger Lakes wine region, which was named the top wine region by USA Today in 2018. The flowery and perfumed aromatic characteristics go beyond riesling itself, since New York's countryside and lake views complement it well. Visitors can taste wine and learn from senior wine educators in an intimate and personalized experience or group tastings while overlooking Keulka Lake. Plus, some of the oldest vinifera vineyards (they grow European grapes) in the U.S. are located on these grounds.
Cheers to making the entire world your tasting room, especially with these five New World wineries infused with an Old World taste.
Originally Sourced from The Compass – Taylor Coulson